Shell element support for 3D Frame Analysis Library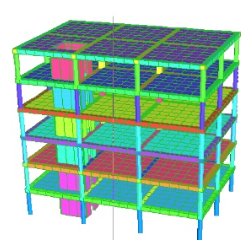 Shell element support for 3D Frame Analysis library. Analysis of walls, slabs, ramps etc. is fully supported.
---
Programming library (Software Development Kit) for the structural analysis of 3d frames and shells using finite element method. Static, dynamic loads are supported. Linear and non-linear effects are considered.
3D Frame Analysis Library added support for shell elements. The library can now effectively handle slabs, walls, raft foundations in a comprehensive way. The full support of area and frame elements makes the library unique, as it the only SDK in the market that analyzes any kind of structure under static and dynamic loading. The library can be easily incorporated in third party applications so that a full structural analysis application can be built.