Software tool for Dynamic Analysis of 2D portal frames and trusses. Dynamic Analysis of Structures.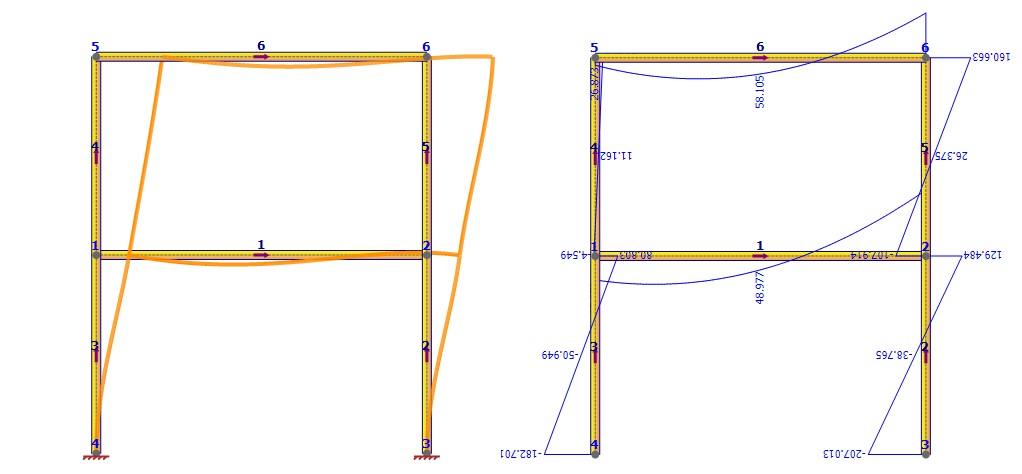 Software applicaiton for the static and dynamic (time history) analysis of frames and trusses. It includes all features of 2D Frame Analysis and 2D Truss Analysis. Modal analysis using advanced algorithms with fast convergence. The calculated modal shapes are represented graphically. The program utilizes the modal superpositioning method to calculate the dynamic response of the structure provided by the user. Damping effect is also considered respecting the damping coefficient specified by the user. The dynamic loads can be easily defined by the user at each time step. The software uses optimized finite elements and includes a powerful solution engine. After the analysis, the user can automatically produce a rich calculation report with the data (tabular and pictures) of the geometry, loads, dynamic properties and results for all nodes and elements.
The dynamic edition of 2D Frame Analysis is a powerfull application that uses optimized finite elements (beam elements) in order to perform static and dynamic analysis of beams, portal frames and trusses. Its versatile interface as well as its easy customization make it a leader-product in frame analysis. Try it and start saving time and money!
---
Static, dynamic, modal analysis of portal frames and trusses
We challenge you to try out this frame analysis program, as there are other analysis programs out there, but you will convince yourself that Engissol Frame 2D is unique because of its features and the ease in using it.
Screenshots
Analysis features
Use of highly flexible, general, finite element method
Static and dynamic analysis of multi span beams, 2D trusses and 2D frames, including portal frames analysis
Modal analysis and eigenvalues estimation
User controlled damping coefficient
Mode superposition method in order to calculate the dynamic response
Automatic creation of consistent mass matrix (Engissol Ltd.'s patent)
Multi-step dynamic analysis which is fully customized
User controlled step and time parameters
Definition of time-dependent loading on elements and nodes
Unlimited number of Nodes and Beams
3 Degrees of freedom per Node, 6 per Beam
Supports all major measure units
All type of boundary conditions (fixed, rollers, etc.)
Translational and rotational spring supports
Prescribed displacements and speeds
Extremely easy model creation, no need to first define nodes and then elements, nodes are produced automatically
Rigid and released joints at any degree of freedom
Consideration of thermal loads
32/64 bit compatible
Compatible with Windows XP/Vista/7/8/10